Hogia was founded in 1980 by entrepreneur Bert-Inge Hogsved. A couple of years earlier, his wife Åse had started her own accounting firm. Driven by an interest in computer programming, Bert-Inge bought a personal computer, an IMSAI 8080, and developed an accounting program to support his wife's agency. This became Hogia's first product and a proved to become a huge sales success. In tandem with the growth of the personal computer, Hogia expanded greatly and continued to develop more software in the areas of payroll and finance.
In 1988, Hogia also began to develop IT solutions for public transport and was among the first software house in Sweden to develop a positioning system. This was designed for Gothenburg's Västtrafik's buses, together with telecommunications companies Telia and Ericsson.
Within ten years, the small company had grown into a well-respected company with 150 employees. But in the late 80's there came a crisis. Hogia's expansion had happened very quickly and possibly a little too easily. They lost momentum and as a result the initiative in the fast-moving computer industry. Bert-Inge Hogsved decided on a drastic reorganization to recreate the entrepreneurial spirit of the first few years. The company was split into six smaller, independent companies, in order to distribute leadership and responsibilities to more employees. With the same products and the same workforce, loss was turned around into profit in one year, and since 1991 Hogia has never made a loss.
As of 2020, the Hogia Group consists of 30 companies located across the Nordic countries and in United Kingdom. It is still a completely family-owned business and has no loans or external share-holders. Bert-Inge Hogsved has held the role of CEO since its inception in 1980, and for over ten years, Hogia has received the highest credit rating possible, the triple-A rating (AAA). Hogia is proud to be an equal opportunities company, and since its foundation in 1980 has had an equal number of male and female employees.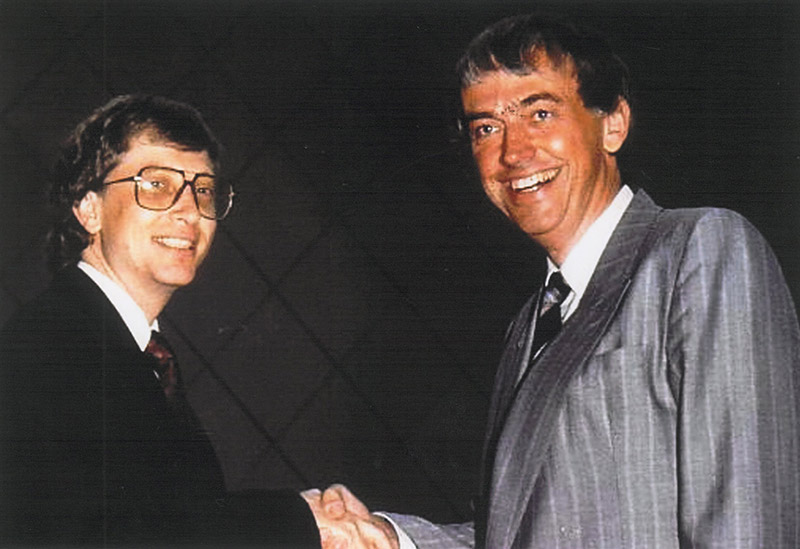 Bill Gates and Bert-Inge Hogsved


Milestones
1980 - Hogia is founded in Bert-Inge Hogsved's home basement and becomes Microsoft's very first partner in Europe.
1987 - Hogia is appointed a Royal Court Supplier.
1988 - Hogia has 150 employees and is named service company of the year.
1993 - Bert-Inge Hogsved opens the world's first personal computer museum, showcasing its unique collection of 200 computers. It is mentioned in the Guinness Book of World Records.
1996 - Bert-Inge Hogsved publishes his first book 'Klyv företagen' (split companies), which describes Hogia's growth model with many small independent companies. It will prove to be one of the 90's best-selling Swedish books on leadership.
2000 - Hogia's current head office in Stenungsund is inaugurated, designed by architect Gert Wingårdh.
2011- The Bert-Inge Hogsved Award for Best Entrepreneurship is established. The prize is awarded annually to a student at Chalmers in Technical Physics.
2017 - Hogia achieves a result of SEK 34 million for the financial year 2017, which is the group's best result ever. The number of employees increases for the ninth year in a row by 25 people and now reaches 650.
2018 - For the third year in a row, Hogia has an 'all time high' and achieves a result of SEK 36 million.
2020 - The Hogia Group now consists of 30 companies and celebrates its 40th anniversary.