Solutions for Public Transport
Hogia offers a full range of solutions that contributes to a modern and attractive public transport.
Smart solutions for efficient public transport
Hogia's public transport solutions are developed to provide the right information, at the right time, to the right person. Operational controllers, traffic informants, drivers and passengers are all updated in real time through user-friendly interfaces. Hogia PubTrans® is the platform that provides other solutions with data and the different products can be combined to suit each unique customer.

Contact us and we will be happy to tell you more!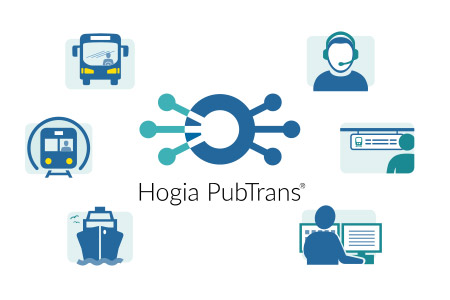 Hogia PubTrans®
The core platform in your business
Hogia PubTrans® is a core business platform that receives, quality assures and combines data from a variety of sources. Information from different public transport modes such as bus, trams, metro, train and ferry, operated by multiple operators, are harmonised into a consistent view that can be used for many purposes.
Hogia PubTrans® creates a complete picture in real time of the public transport and gives all actors access to the same information at the same time. All for a smoother journey for both passengers and service providers.
More features – Hogia PubTrans®
Planned traffic
Planning traffic is the starting position for public transport. Hogia PubTrans® handles data on planned traffic with a very high level of detail, which means that all data needed to support the passenger during the planning of a journey can be accessed by the platform.
Importing data regarding planned traffic is handled smoothly across a modern, web-based interface. All imported data is checked to ensure that the content matches the data previously imported. This ensures that all data in Hogia PubTrans® is connected in a logical and structured way.
Real-time data
Thanks to public transport vehicles being continuously connected, Hogia PubTrans® receives updates in real-time about traffic events. Examples of real-time data include information about current positions, arrivals to and departures from stops, and the number of passengers on board. These data are combined with information about planned traffic, actions by the traffic manager, and current announcements, and together they create a full picture of the public transport in real-time. This means that the passenger can trust that the information provided is always accurate and up-to date.
Forecasts
Using an advanced algorithm that takes multiple factors into account and uses constantly updated statistics Hogia PubTrans® creates forecasts for when the public transport vehicle will arrive to and depart from the stops. With reliable forecasts, passengers are fully informed when making choices about how best to travel. This makes the journey smooth and easy.
Historical data, analysis and reports
All data processed in Hogia PubTrans® can be saved and accessed later. This way, all data required for in-depth analysis of completed travel is conveniently accessible in a structured and well-defined way. Hogia offers a number of standardised reports and dashboards that can be used for analysis. We also offer advanced analytics solutions in Qlik. If preferred, it's easy to instead connect your own BI tool.
Integrations
Hogia PubTrans® both reads and publishes information in a large number of standardised formats. Through using open, recognised standard interfaces, lengthy and complex integration projects with ill-defined responsibilities can be avoided. When investing in a new system or replacing an existing system, the use of open standards will give you the freedom to always choose the best supplier and functionality, and not be limited to your current suppliers.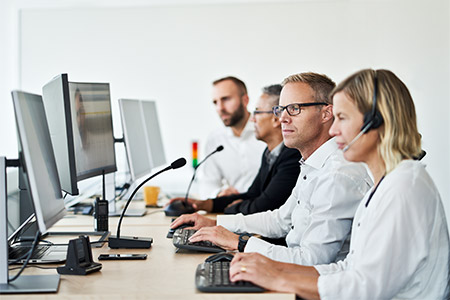 The work of an operational controller is complex and time is a scarce commodity in stressful situations. To make the correct decision under these conditions, the data presented must be accurate and current and clear – and readily visible. Hogia's Operation Control is a proactive tool that provides a joint picture of reality by integrating your various systems, thereby providing you a good overview of what is happening in the traffic.
With Hogia Operation Control, the traffic directed using real-time information to manage events and minimise disruptions for passengers. Vehicle positioning every second, warnings that should be observed, and number of passengers on board help the operation controller understand, manage, and act in a timely manner.
Operation Control consists of user-friendly modules where every user can create their own individual layout based on their particular role, combined with integrated radio communications, operation controller actions to manage traffic disruptions and to send harmonised information to the relevant parties.
Radio communication
Ensure the communication between operation control and individual drivers, or groups of drivers, using the Tetra network.
Hogia Mobile Gateway is integrated in Hogia's operation control system and enables text and speech communication for public transport across the Tetra network. By using the strength of the Tetra network with respect to group management, its superior coverage, together with logical calls and dynamic groups related to public transport terms, the user gets a powerful tool for reaching individual groups of drivers.
Hogia is a service provider for integration in the Rakel network integration authorised by MSB, the Swedish Civil Contingencies Agency.
Deviation management
Operation control contains several operation control actions which can be employed by an operational controller to manage deviations from the planned traffic. An operation control action may result in one or several deviations, where a deviation describes how the traffic changes during a limited time period, and why. It is important to notify passengers of the deviations, and this is handled automatically by operation control so that the information about the deviation may be sent to connected output channels such as signs, websites, travel planners, and other systems that subscribe to real-time information.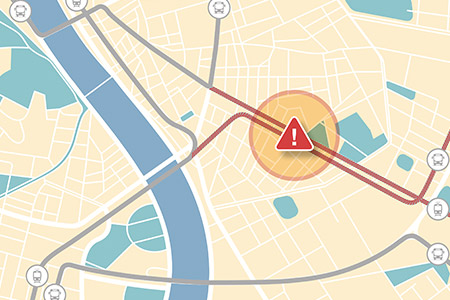 When unforeseen events occur, it is important to quickly get an overview and be able to inform passengers quickly and accurately. Hogia's solutions provide traffic informants with the tools needed to effectively inform and guide passengers and thereby create trust in public transportation.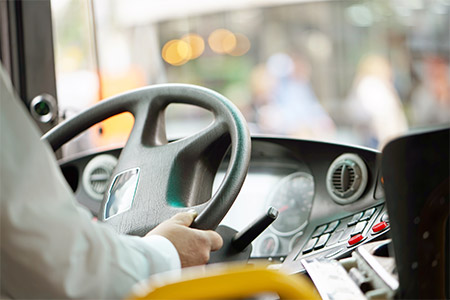 In order for public transport to be safe, punctual and flexible, drivers need to quickly get the right information and be able to communicate with operation control and with each other. Hogia offers solutions that meet the needs of drivers in modern public transport.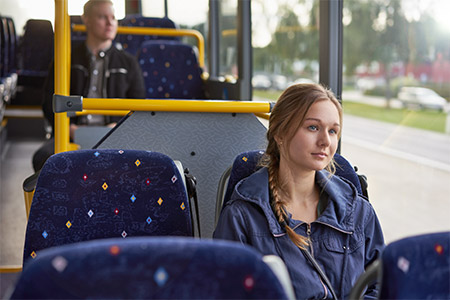 Giving your customers correct and timely information on events and alternative routes, via their chosen channel, helps them plan and complete their journey in the most efficient way. As a result, customers become confident in your ability to provide a smooth journey. Which in turn helps you achieve your goal of increasing public transport journeys.
Hogia helps you deliver real-time arrival and departure times, delay and other traffic disruption information. This can be delivered not only to dynamic displays at terminals, stops and onboard vehicles, but also online to websites, journey planner and apps, via social media and via email and text messages.
Onboard the vehicle, Hogia can provide the passenger with information about upcoming stops, connecting service, the real-time progress and any disruptions or deviations.
Instant – a new Hogia cloud-based suite
Hogia has developed a new technical platform – Hogia Star, forming the foundation for Hogia's cloud-based products. The cloud-based 'Instant' suite of products for public transport is platform-independent and gives you all the right tools to monitor and manage traffic situations in real-time.
The products in the Instant suite can be mixed and matched to your needs, and together they create a complete tool under a common user interface.
A holistic and experienced approach
Hogia remain an experienced and committed organisation, supporting your system and application operation. Our responsibilities range from defining the run-time requirements to acting on alerts and actions. We secure business critical applications' availability and also performance and business continuity in run-time. Our organisation comprehends Product and Application Management, IT Operation Control, Event, Incident and Problem Management.
Your existing, as well as your future, investments in the software for public transport area are safe in our experienced hands. We have more than 30 years of experience delivering business value and benefits, which helps ensuring your customers' satisfaction.
Do you want to know more?