Wallhamn is streamlining its freight flows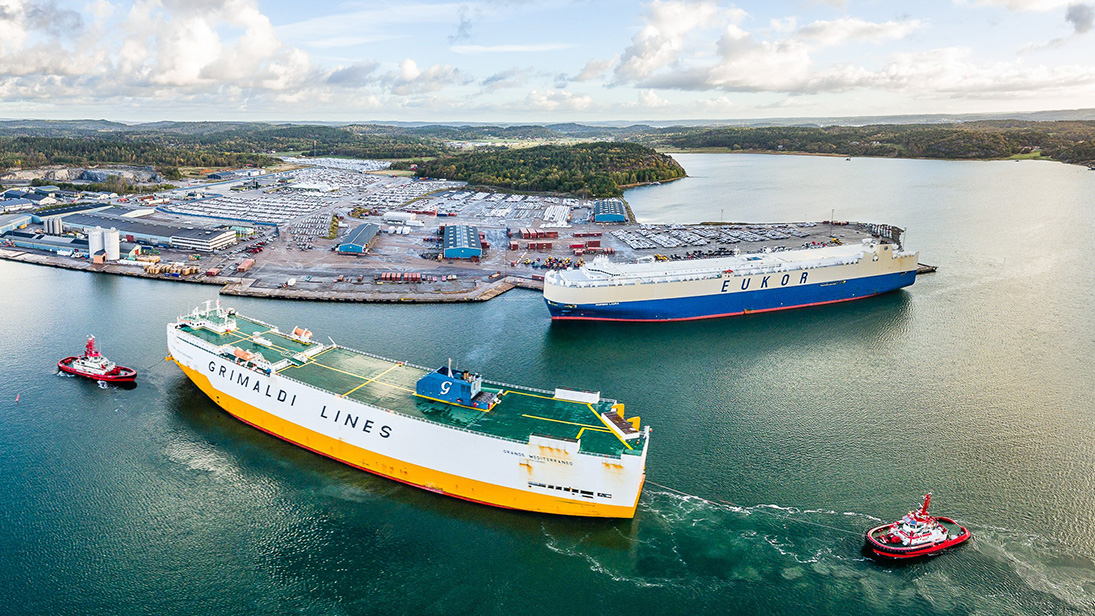 Every week, numerous ships arrive at the Port of Wallhamn to load or unload cars, lorries, buses and industrial machinery. Founded in 1962, the port is one of the Nordic region's leading vehicle ports and an important hub for the import and export of vehicles in Sweden.
In addition to the port operations, work is also underway to outfit company and service cars with suitable equipment such as tool cabinets, toolboards and microwave ovens. The port also operates its own PDI facility, which makes Wallhamn unique. PDI stands for Pre Delivery Inspection. In the on-site facility, new cars are equipped with everything from rubber mats and instruction manuals to towbars, signs and fuel heaters before being transported out to dealers.

"We're the only port that has a complete flow, from unloading a car from a ship to getting the car ready for dealers," says Jonas Börtner, Port Captain/Chief Operating Officer at Wallhamn.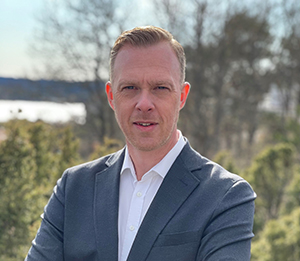 Jonas Börtner, Port Captain/Chief Operating Officer at Wallhamn.
Wallhamn currently uses Hogia's Terminal Operating System (TOS) as a central system for all its freight flows.

"We handle about 100,000 vehicles per year. These include cars, buses, lorries and machines from all the major manufacturers, such as Volvo, Scania, Kia and Ford to name a few. We also handle steel, paper and timber that is being shipped abroad. From Wallhamn it is possible to reach every continent with the shipping companies that frequent us."

When the ships arrive at Wallhamn, a great deal of goods must be turned over in a short period of time. Each car must be driven off or on and scanned in order to know where it is in the yard area. In the past, the scanning was conducted using proprietary software, but during the spring the implementation of the Hogia Terminal Workit smartphone application has begun, allowing the port to achieve extended functionality and further streamline its freight flows.

With Workit and the map function in Hogia Terminal Map, the port gains a better overview of its parking areas and can see exactly where the cars are located. This enables greater efficiency in the preparation of cargo and allows port employees to create cargo plans of the cars that are to be loaded onto the next ship from the comfort of their offices.

"It also increases our ability to deliver to our customers," explains Jonas Börtner. "For example, when a vehicle has been loaded they want to know about it right away. We'll now be able to deliver that data faster and more securely. This will help us to become more digitalised. Customers should really be able to trust the information they receive from us."

In the long term, Wallhamn is also interested in the charging possibilities in Hogia (TOS), which enables the port to charge for its services directly through Hogia's programmes.

"I'm just anxious to get things started; everyone here feels the same way," Börtner concludes.



For further information, please contact:
Mathias Lindell, Managing Director, Hogia Terminal Systems
Phone +46 303 72 60 92 or mathias.lindell@hogia.se
Ferry
Smooth sea transports for tourists, commuters and freight
News
Irish Ferries chooses Hogia Ferry Systems
Irish Ferries have signed an agreement with Hogia Ferry Systems to introduce their standard booking and ticketing system BOOKIT, enrolling in 2021.
Read More
News
Åland digitalizes their passenger information
Åland Government have signed an agreement with Hogia Public Transport Systems to improve their passenger information in public transport.
Read More